hi!! last night my lifeband made a delicious dinner and I made peanut butter chocolate chip rice krispy treats.
(pics coming soon)
♥ i loved the way they came out but i get so nervous when other people eat things i make. i know, weird... after dinner we went to
Pinz
in Studio City for a friends birthday. games are cheap, drinks are cheap and you might see someone famous! ;) To our surprise it was packed, like club packed.. and on a wednesday! i mean who knew if there was a wait for lanes they had buzzers like they do in restaurants? crazy! and we had some "celebrity" sightings. The Jonas brothers were there with their little entourage and huge body guards. we had the lane next to them and it was pretty intense how good they could bowl. of course we had to take a picture with them. ;) haha..There were some other D listers there but all in all we had a great night. and I beat boyfriend by seven points so that's all that matters. :) hehe.
ugh....side note--it's so hard going out on a "school night". getting up for work sucks on a few hours of sleep. i hate getting old. wahhhhh.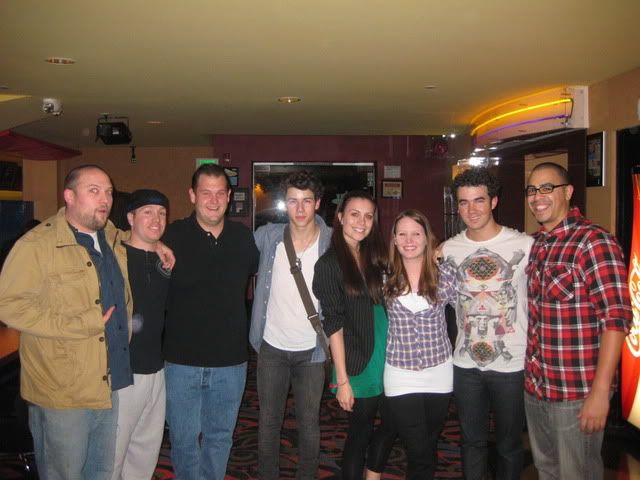 in other news it's heart breaking about Alexander McQueen. he was truly an inspiration and will be missed forever. ♥
♥
hope you guys have a great day!

xoxo
don't forget to enter

this fabulous giveaway

made by moi!