♥ Dress-
Free People
♥ heels-Bakers ♥ flower ring-DIY
Blicious
♥ Hat-DIY (post coming soon) ♥ bling earrings-the downtown mart ♥ clutch-Marciano ♥ Bouquet-handmade by a bridesmaid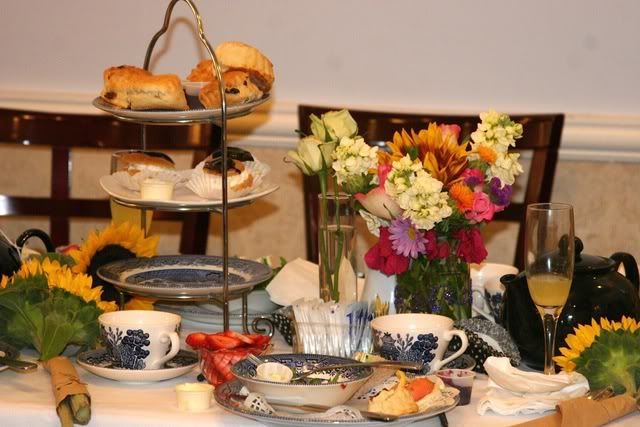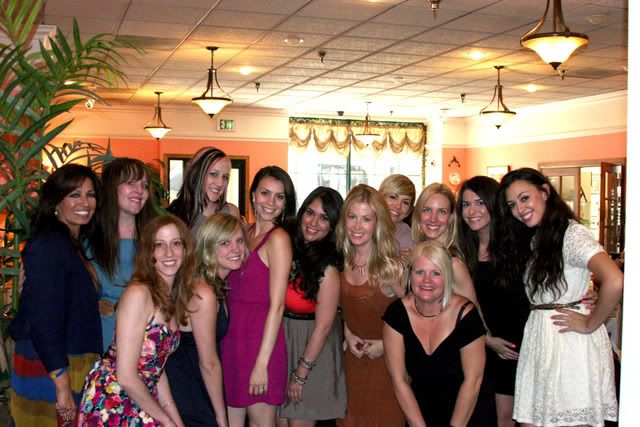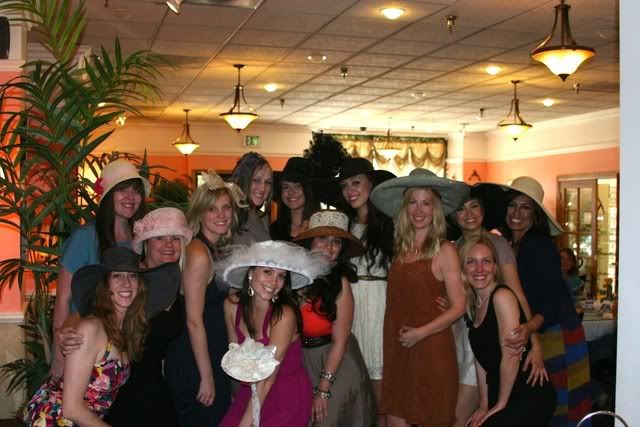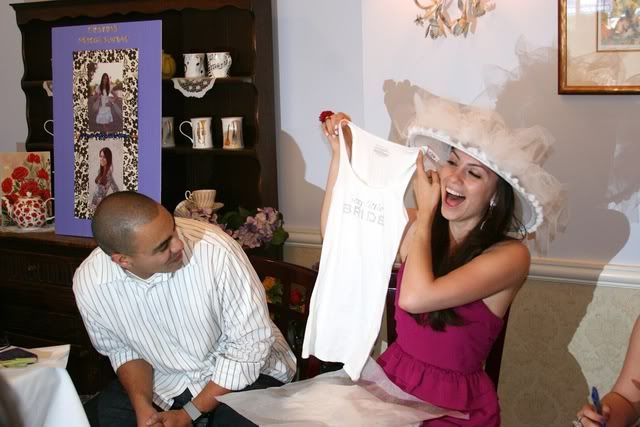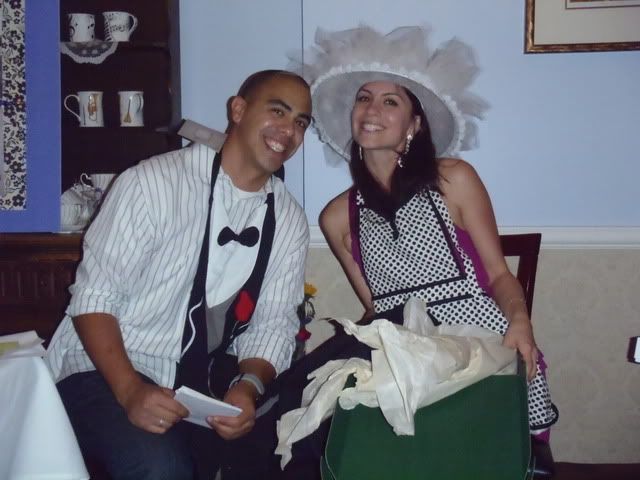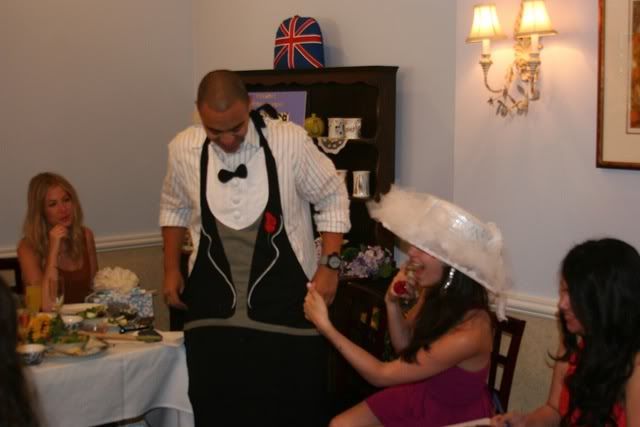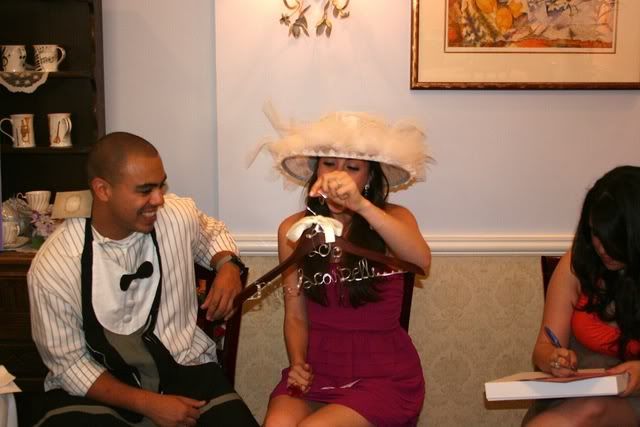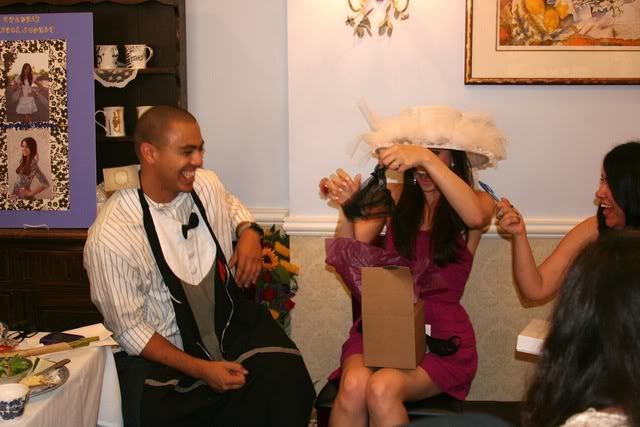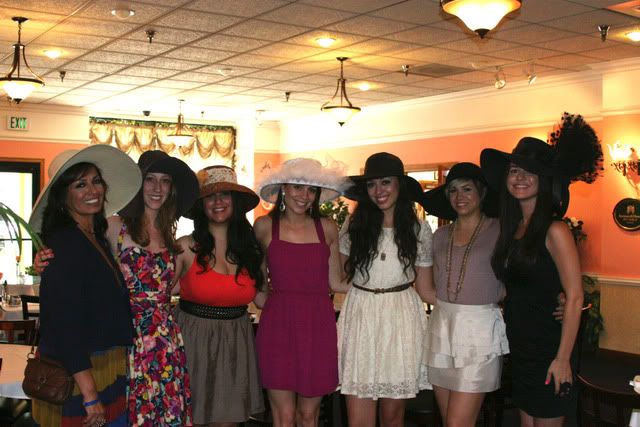 The table decor and my fiance handing out sunflowers to each girl! ♥

Sunday was a dreamy, cloud 9, hands shaky, emotional kinda day. My amazing bridesmaids threw me the most
beautiful bridal shower
with 12 of my closest girlies! It was a hat shower at a tea house in Santa Monica called the
Tudor House
. It was beautiful! They made me a sign, and brought in the prettiest flowers for the table. Brandon's mom made all the desserts that are to die for! So fun! I loved everyones hats! I got the most amazing sexyfied gifts, fun cookbooks that have so much meaning, Mrs Scarpelli things including a bathing suit, jacket and hanger for my dress, gorgeous Bride stuff, aprons for the birde and groom, a burke williams gift card and more! and all the girls put together a photo album with pics of
US
inside. It was perfect! I seriously have the best friends! I have known some for years, recently got to know a few, worked with some, dance with some and are related to some. I love each relationship I have with them. They are all amazing and I am so blessed to have them all in my life. I felt so special yesterday thanks to all of them. Best day ever! I only cried a few times.....just a few... ;)
I made my bridesmaid a beautiful necklace as a little thank you for everything. They are sliced amethyst and each one was a different cut. i wrapped them in lace and made each name tag. i love anything handmade!
We also played a game and I failed. Brandon answered a bunch of questions and I had to answer how he would. let's just say.....we were off. I was off. way off. but i love him! :)
A very special thanks to my future husband! He showed up towards the end of the shower with gorgeous flowers for me, my mom and his mom. and then came back inside with sunflowers for every girl. he's perfect. in every way. ♥
I can't wait to be his wife!
Best bridal shower ever! I've dreamt about my bridal shower since I was a little girl and it was perfect in every way. I can't wait for my Shower in a few weeks with my family! ♥

I hope you all had a great weekend!

xoxo
b