and my dreams are to have the famous closet from
SATC
. or
Mariah Carey's
. Or
Rachel Zoe's
. le sigh...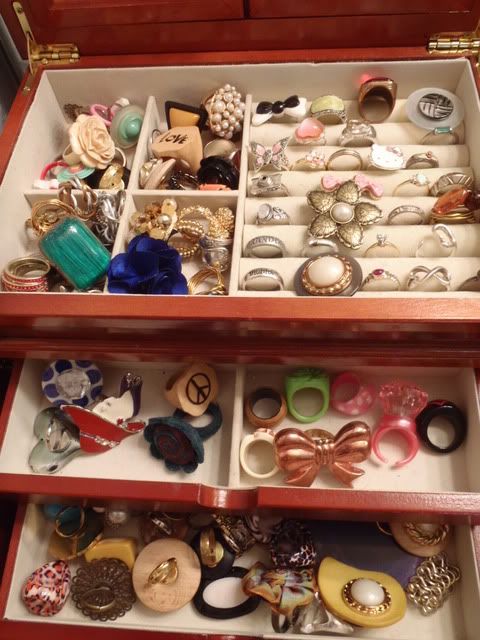 my ring collection. most handmade by yours truly.
my pretty necklaces/ bracelets and my handmade headbands in the glass jar. and of course the "HIS" soap pump is in Brandon's bathroom.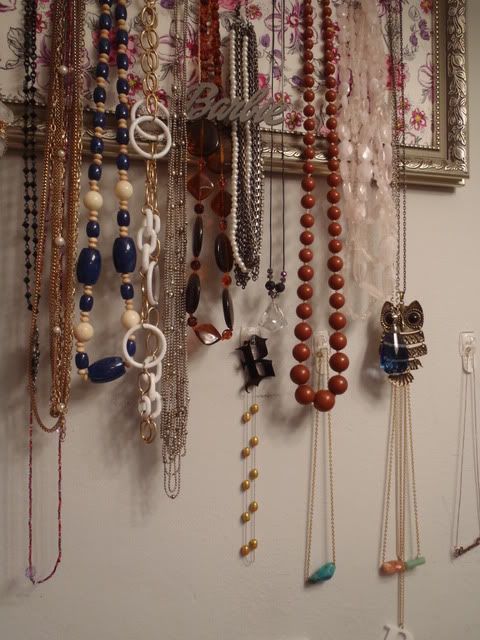 some of my chunky necklaces. i have another stack hanging that are all tangled and twisted and are never worn. :(
my beautiful

Nambe

ring holder that holds the two rings that mean the world to me.
my packed closet that needs to be cleaned.
i need help. an organizing life tip. my jewelry is all over the place. My bracelets are thrown in to a huge round jar and the ones on top are the lucky ones that are worn. My earrings are in a big wood jewelry case and the odds of me finding two that match before i have to leave for work are slim to none. Do you guys have any tips or special organizing skills to help me? ......and then there's my closet. oy....i seriously wear the same things every day because you have to be strong to move shit aside and find stuff that's in the back.

poor me.

no but really, i know the rule should be if you haven't worn it in a year you never will but i swear to myself i will when i find it. and then it's put in the back....i need a trip to the container store...or any tips you have.
hope you all had a great weekend!
xoxo
b